Helsinki Geography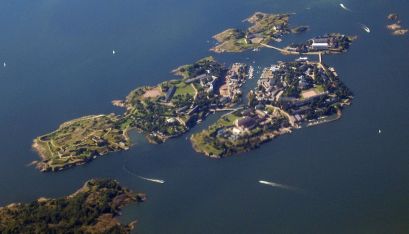 Geographically, Helsinki is on the tip of a peninsula and on 315 islands. The city is located on a southern peninsula, Helsinginniemi (Cape of Helsinki). Facing Tallinn (Estonia) across the bay, several islands, which are part of Helsinki, can be reached via boats and ferries. North of Helsinki leads to other cities in Finland and connects to the borders of Sweden and Russia.
The total area of Helsinki is 686 km2 (265 sq mi). Out of the total area, 186 km2 (72 sq mi) is land, and 500 km2 (190 sq mi) is covered with water.
60°10′15″ N , 024°56′15″ E
City Grounds
Helsinki covers numerous islands, peninsulas and bays. The city centre is in the southern part of Finland, and the rest extends to the small islands across the sea. Some of these are the island of Suomenlinna- an inhabited sea fortress, The military island of Santahamina, as well as the islands of Seurasaari and Lauttasaari. The island of Korkeasaari is home to Finland's biggest zoo, which can be reached via a bridge from the mainland.

Climate
Helsinki has a humid continental climate. Due to the Baltic Sea and North Atlantic Current, the temperatures are higher during the winter, with the average in January and February around −4°C (25°F). Temperatures hit below −20°C (−4°F) a few times a year.
Compared to the north of Finland, the winters in Helsinki are warmer, and the snow season is shorter than in other parts of Finland. Winters are freezing, snowy, windy and cloudy. Helsinki experiences extended daylight in the summer. The summers are comfortable and partly cloudy with thunderstorms. The average maximum temperature from June to August is around 19°C to 22°C (66°C to 72°F).
The best time to visit Helsinki for warm-weather activities is from May to September. During these months, Helsinki experiences little rainfall.
Recommended Activities