Shopping in Helsinki
The Scandinavian designs are taking the world by storm and if you want to possess some of them you must hit the stores at once. The city of Helsinki offers you numerous malls, shops, and shopping outlets to pacify the shopaholic inside you.
Places like Kamppi Shopping Centre, Hakaniemi Market, Market Square and Shopping centre Ruoholahti are where you can get everything from fresh local produce to the most fashionable apparels. Apart from all the top things to do in the city, there are many cosy little curiosity shops, flea markets and antique stores where you can find something interesting to take home as souvenirs. Many shopping malls also feature restaurants, cafes, kids play area for the entertainment of the whole family.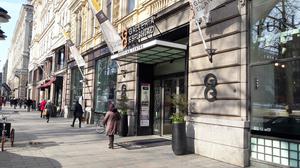 Galleria Esplanad
Galleria Esplanad
Galleria Esplanad (formerly Kamp Galleria) caters mainly to tourists staying at the posh Kamp Hotel, located beside the mall. International brands, boutiques and high-end designer lines occupy the modern structure. Going hungry is not a problem; an equally exquisite dining option is easily accessible at the mall's cafe.
Opening Time: Mon. to Fri. 10am-8pm, Sat.10am-5pm, Sun. Noon-4pm
Address: Pohjoisesplanadi 33, 00100 Helsinki, Finland
Tel.: +358 20 715 2500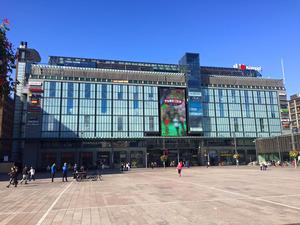 Kamppi Shopping Centre
Kamppi Shopping Centre
This mixed social complex aims to provide the Kamppi area with all of the town's needs. Ranging from transit terminals, freight depot, high-class offices, apartments and residential units, the shopping centre is complete with all amenities, retail stores, restaurants and a supermarket.
Opening Time: Mon. to Fri. 9am-9pm, Sat.9am-6pm, Sun. Noon-6pm, Closed on Public Holidays
Address: Fredrikinkatu, 00100 Helsinki, Finland
Tel.: +358 9 7429 8552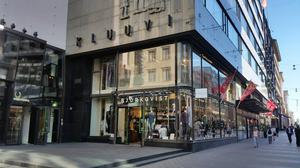 Kauppakeskus Kluuvi
Kluuvi Shopping Centre (Kauppakeskus Kluuvi)
Kluuvi Mall spread over three floors, sells clothing and assorted products. It also featrues commercial shops, restaurants and cafes. Other than retail concept stores and eateries, the mall also includes an eco-market in the basement where around 500 Finnish small producers sell local delicacies.
Opening Time: Mon. to Fri. 10am-9pm, Sat. 10am-6pm, Sun. Noon-5pm
Address: Aleksanterinkatu 9, 00100 Helsinki, Finland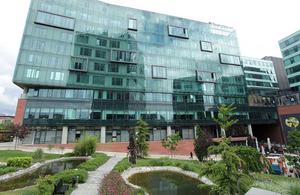 Forum
Forum
Shopping Centre Forum is one of the best shopping centres in Helsinki. The centre has about 140 shops of renowned fashion brands like Victoria´s Secret, Hennes & Mauritz, Monki, BikBok. Marimekko, Pentik and Moomin Shop. You will also find a number of cafes and restaurants like Café Fazer, McDonald's, O´Learys, and Espresso House to relax and refresh after your shopping spree.
Opening Time: Mon. to Fri. 10am-10pm, Sat 10am-7pm, Sun Noon-6pm
Address: Mannerheimintie 14-20, 00100 Helsinki, Finland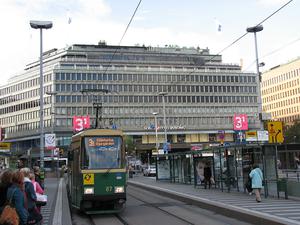 CC / JIP
Sokos Department Store
Soko is one of Helsinki's posh malls. A few blocks from Stockmann, it heralds at the city centre and offers major international brands, imported products and the likes. A one-stop shop for goods, fashion, leisure and entertainment needs.
Opening Time: Mon. to Fri. 9am-9pm, Sat. 9am-6pm, Sun. Noon-6pm
Address: Mannerheimintie 9 00100 Helsinki, Finland
Tel.: +358 10 766 5100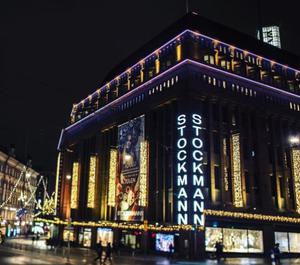 Stockmann
Stockmann Department store
The Stockmann Mall is the biggest of its kind. Bordering four major streets- Mannerheimintie, Aleksanterinkatu, Keskuskatu and Pohjoisesplanadi, its massive floor area holds high-quality branded products, private offices on the top floor and endless food choices from fast food to gourmet. Being widely popular among locals and tourists, it has become a national landmark as well.
Opening Time: Mon. to Fri. 9am-9pm, Sat. 9am-6pm, Sun. Noon-6pm
Address: Aleksanterinkatu 52, 00100 Helsinki, Finland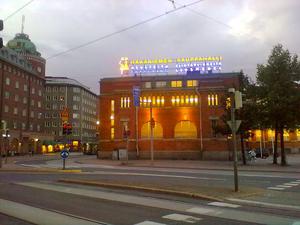 Hakaniemen Kauppahalli
Hakaniemi Market (Hakaniemen Kauppahalli)
Hakaniemi Market Hall is located at Hämeentie and has about 70 shops spread across two floors. On the 1st floor, there are shops selling foodstuffs and groceries, while on the 2nd floor the visitors can shop a variety of creative products and handicrafts. The Hakaniemi Market Hall is a place which was designed by Karl Hård af Segerstad and was first established in the 19th century.
Address: Hakaniemen Kauppahalli, 00530 Helsinki, Finland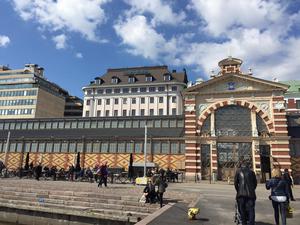 Vanha kauppahalli
Old Market Hall (Vanha kauppahalli)
The Old Market Hall in Helsinki is serving its customers since 1889. Here the visitors can shop for an array of products like cheese, fish, vegetables, fruit, cakes, spices, coffee, tea and much more. The market was designed by Finnish architect Gunnar Nyström and is situated near the Helsinki Market Square. This place is best to get some gourmet Finnish delicacies and also to spend a relaxed evening in the pleasant atmosphere.
Address: Eteläranta, 00130 Helsinki, Finland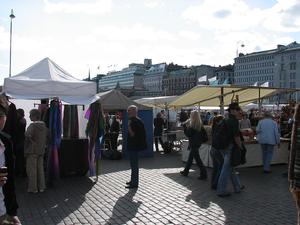 CC / JIP
Market Square (Kauppatori)
Market Square (Swedish: Salutorget) is the destination for fresh produce, freshly cooked foods, cafes, meat, fruit, fish- especially herring during its season, or even reindeer sausages. There are tables and chairs to relax and enjoy meals. But that's only from the edible stalls. The market offers a variety of services, souvenirs, dolls, fur, crafts and clothing. Perfect for strolling, Kauppatori is open air and just beside the marina, with gusts of sea breeze coming off the ocean.
Opening Time: Open from May to September: Mon. to Fri. 6am-6pm, Sat. 6am-4pm, Sun.
Address: At the east end of the Esplanadi Boulevard, near the Senate Square (walking distance)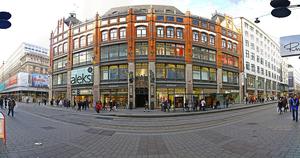 CC / Axilera
Aleksi 13
Aleksi 13 is a clothing chain store in Finland; the flagship store of this brand opened in the year 1900 in Helsinki in the beautiful building of Lindqvist palace which is still a significant place in the city. This brand is well known for its fashion apparels and accessories. They also offer clothes from selected other brands such as Mexx, Esprit, Ois, etc.
Address: Aleksi 13 / L-Fashion Group, Aleksanterinkatu 13 , 00100 Helsinki, Finland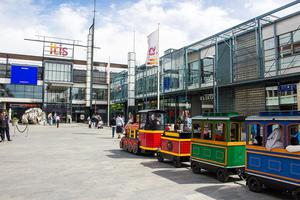 Itis
Itis Shopping Centre
This huge shopping complex houses about 250 stores, including restaurants and commercial sectors, and is ideally located near the Itäkeskus metro station. Top floors are for parking and office space, and the first two floors provide the shopping areas.
Opening Time: Mon. to Fri. 9am-9pm, Sat. 9am-6pm, Sun. Noon-6pm, Exceptions Public Holidays
Address: Itäkatu 1–7, FI-00930 Helsinki, Finland
Tel.: +358 9 3436 4858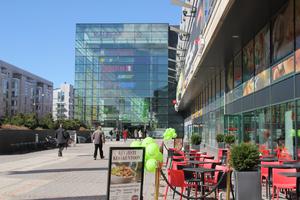 Kauppakeskus Ruoholahti
Shopping centre Ruoholahti (Kauppakeskus Ruoholahti)
Located at Itämerenkatu near the Ruoholahti metro station, this is a shopping centre with over 20 shops and business organisations under one roof. This space accommodates well-known enterprises like the K-city market, K-rauta, and Alko. and is one of the most popular shopping destinations for day-to-day shopping.
Address: Itämerenkatu 21 A, 2 rows, 00180 Helsinki, Finland
Tel.: +358 9 341 70707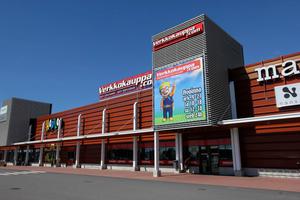 Verkkokauppa.com
Verkkokauppa.com
The Verkkokauppa.com is a store offering the home appliances, electronics, and sports goods. The store offers More than 50,000 products of different varieties. It also has a 24-hour kiosk, gaming café, number of restaurants and a terrace with beautiful views of the city. Situated in the heart of Helsinki next to the West Harbor this place also offers attractive offers and discounts to the consumers.
Address: Tyynenmerenkatu 11 , 00220 Helsinki, Finland
Tel.: Mon. to Sat. 9am-10pm, Sun. Noon-6pm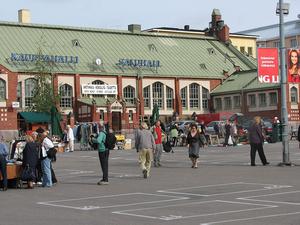 CC / JIP
Hietalahti "Hietsu" Flea Market
This is one of the most popular market places in Helsinki which opens during the summer time and is held on the Hietalahti square. It is also known as the Hietsu among the locals.
The market is open from Monday to Sunday and presents about 150 stalls and kiosks selling clothes, antiques, used products, handicrafts, fresh vegetables and fruits and many other exciting stuff. You can also taste Finnish delicacies like tori kahvit, korvapuusti and munkki.
Recommended Activities