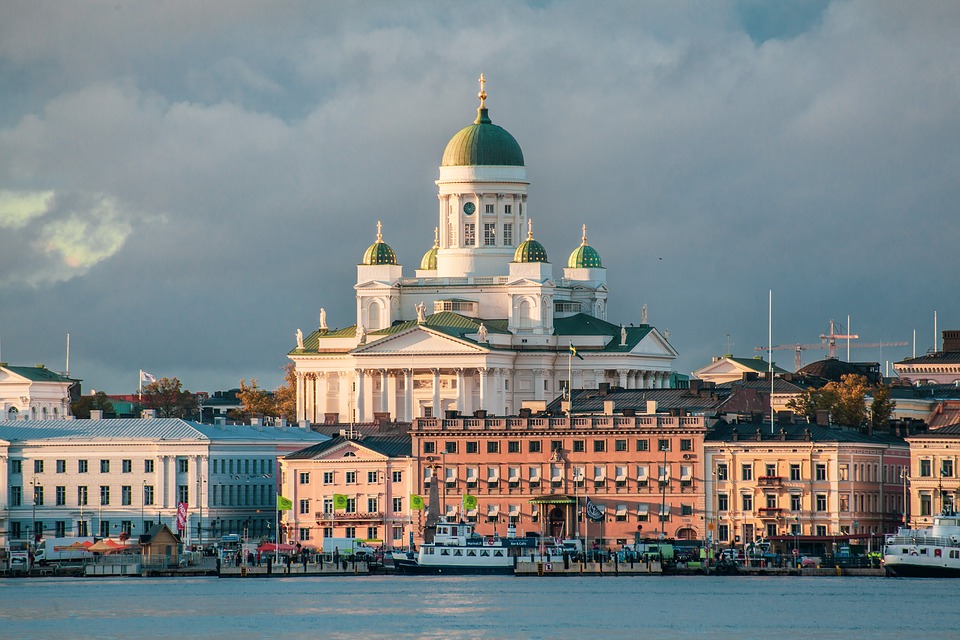 The capital of Finland, Helsinki is a city with a rich and tumultuous history that can be guessed by visiting its beautiful buildings and surroundings. But Helsinki nowadays is a combination of what it used to be and the modern world, which only makes it more attractive for a wide range of tourists.
So, if you plan a trip there and you're not sure where to go first, we put together a small guideline with Helsinki's most interesting attractions.
Helsinki Cathedral
You don't have to be religious to find this building intimidating and mesmerizing!
The cathedral towers over the city with its white walls and columns and attracts the eye with its green dome that can be seen from anywhere in the city. We know you're going to love both the exterior and the interior of this mid-19th-century neoclassical building, so why not put it first on your list?
As a fun fact, the Helsinki Cathedral was built in the honour of the Grand Duke of Finland (Tsar Nicholas of Russia) and used to bear the name of St. Nicholas' Cathedral. However, once the Finnish gained their independence in 1917, it was renamed as we know it today.
Temppeliaukio Church
If you're looking for unique buildings, Temppeliaukio is most definitely one of a kind in the entire world!
First, it doesn't look like a church, and second, half of it is underground. Inaugurated in 1969, the church is a representation of the post-war architecture. As such, the walls were carved in the bedrock, creating a wonderful interior aspect and the roof is a circular dome equipped with a ring of skylights that allow sun rays to pierce through and flood the room during the day.  
Also, the interior decorations and elements are designed by architects, making this one of the most modern-looking churches in the world.
Another thing worth noting is that, when you look at it from a distance, it doesn't look like a regular church. Because the main dome is close to the earth, the church looks like a giant alien ship that's getting ready to invade humankind.
Fun & Games
The city offers a wide array of attractions for tourists who just want to have fun. Starting with a series of Escape rooms and ending with cinemas and casinos, we promise you won't get bored! The casinos in particular offer wonderful activities (besides gambling) to attract different types of visitors. As such, you may have the chance to enjoy a good meal, meet someone, and enjoy a gorgeous musical number by a famous artist.
Keep in mind that in Helsinki's casinos you'll likely meet experienced players. So, if you want to play but you're not sure about your game, see this online casino for a bit of practice. It helps to warm up before diving in with the big fish.
Speaking of fish, if you get there during Crayfish season (late July up to late August) you must try a crayfish party! The locals love to have fun in seafood restaurants because they get to eat delicious foods and drink Akvavit while singing. For a tourist, this is an amazing opportunity to participate in the locals' joy and see what Finland really is about!
Urban Sauna
You cannot visit Helsinki and miss going to a sauna.
Finland has around three million saunas, with many of them located right in Helsinki. In fact, the word sauna is Finnish, so you can see why this is on our list of main attractions.
The saunas in Helsinki are available regardless of season, and most of them are open to the public. So, after an evening of fun and games, it's only natural to want a day of relaxation and pampering! For this try the Kotiharju, Merihaka, or Hermanni districts.
Wrap Up
Overall, Helsinki has everything a tourist would want! Historical buildings and monuments, wonderful sights, plenty of space for fun, and lots of saunas where you can relax your tired bones. Of course, the list of attractions is longer, but we'll let you discover them at your own pace.