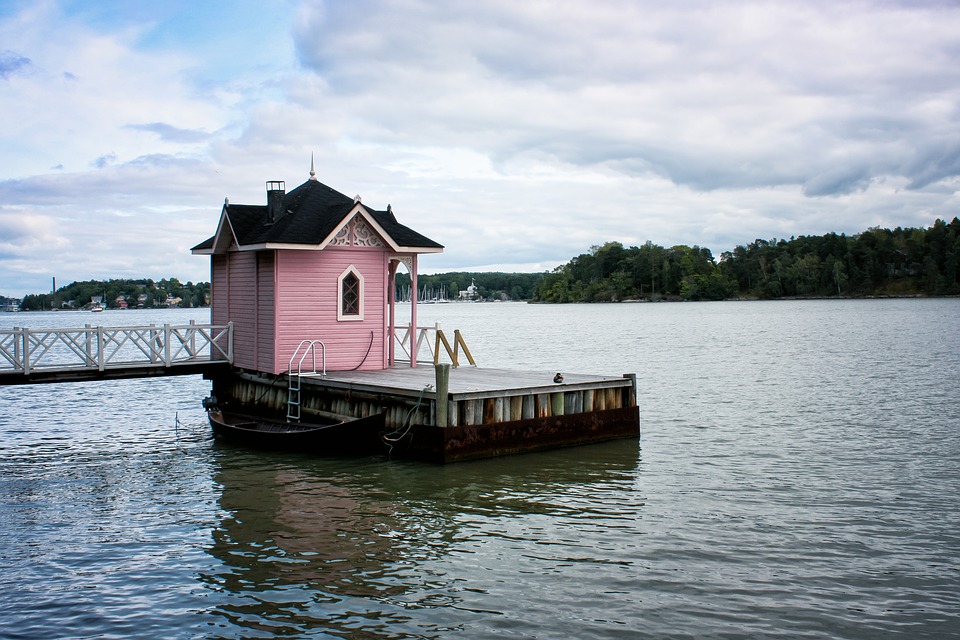 When visiting the freezing Finnish capital of Helsinki, make sure you drop by a sauna to warm up after a long day of sightseeing. A Finnish sauna experience is a must-do, not only because it is such a quintessentially Finnish thing to do but also because of some of the monumental health benefits involved. Not only does it keep you warm during harsh, Finnish winters, but saunas improve circulation, provide relief from joint pains, stress and help lower risk of heart disease. 
Sauna Etiquette
For the sake of hygiene, it is expected to take a shower both before and after every sauna in Finland. Upon entering, you need to grab a sauna cloth which will abord the brunt of the sweat whilst you're inside. Establishment usually offers its patrons disposable ones. 
Probably the most disconcerting thing about Finland for tourists is the Finnish comfort with nudity. If you're in a public, gender based sauna, it is usually expected that you go in the nude. You can wear bathing suits, but in these scenarios, it is somewhat frowned upon. Those uncomfortable with the traditional Finnish way however, can breathe a sigh of relief, there are some saunas that mandate clothing. So before you decide the venue make sure you enquire about this to avoid any embarrassment. The point to note in this regard is to make sure you don't enter a clothing mandated sauna nude. 
Where to sauna in Helsinki?
You could head to hotel saunas or sauna clubs around Helsinki, each has its own distinct characteristics as well as a few pros and cons. A funky hotel located near the West Harbour terminal, Radisson Blu Seaside Hotel sometimes offers patron upgrades to their rooms. The Executive Suite features an enormous lounge room, stunning views over the harbour, a separate bedroom and your own private sauna. The sauna in this room can comfortably fit 4 people, it is connected to the bathroom and comes with an electric induced heater. Given it's a private sauna, you can do as you please when it comes to the clothing situation. 
Clarion Hotel Helsinki offers a traditional Finnish experience. It has large glass windows opening onto the shower area with views out over Helsinki. You can see out but not in. It's an impressive location to enjoy a good sweat with the summer light streaming through. Between each sauna, a trip to the pool was the perfect come down, refreshing and invigorating. I felt on top of the world after jumping back and forth between the cool water and heat of the sauna. 
Sauna club Loyly aims to make sauna a lubricated occasion. Loyly has two saunas, in which you are allowed to buy drinks including beer, champagne and wine to enjoy whilst inside. It is a mixed gender sauna means clothes are mandated while the other sauna gives you the Finnish experience. Upon arrival you'll need to leave the shoes outside, check in, collect your bar key and even open up a bar tab. One sauna is dark, very hot and a wood sauna. The second sauna is similar to the Clarion sauna with large glass doors opening onto the common shower area. Loeyly is right next to the beach and so if it gets too hot, you can go for a dip in the ocean. Even in summer, that water has hints of ice in it. Dive right in, hang about for a bit and repeat the cycle.