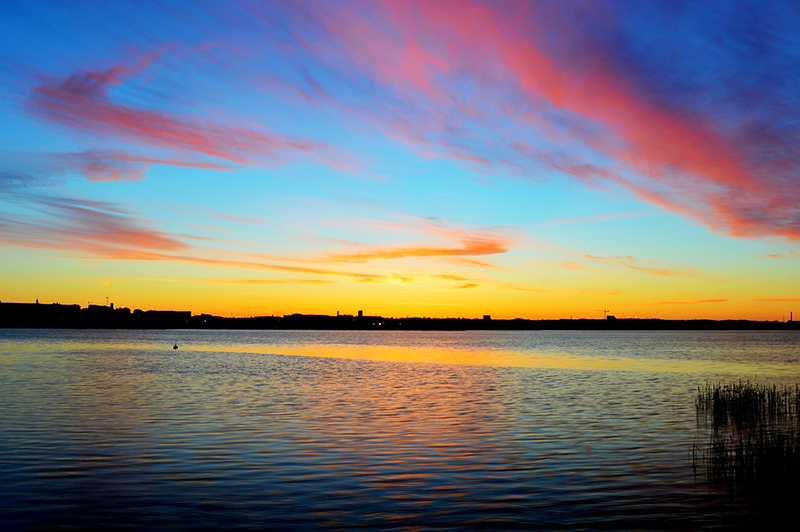 Are you craving some sunshine or want to spend some time dipping your toes by the beach? There is truly no better place with restrictions and rules than sitting by the beautiful beaches in Helsinki to get away from work and the bustling city life. Relax, unwind, grab a cool drink, hot beverage, or food from your favourite restaurant of choice and enjoy a few hours in the fresh open air at Helsinki's most popular beaches.
Kivinokka Beach
Are you thinking of visiting the beach during a long weekend holiday? Getaway with your partner and spend time a little away from Helsinki at Kivinokka Beach. Surrounded by small cottages and enclosed in a forested area, this beach is perfect for water lovers and those who enjoy a hike or want some peace living alongside nature. Please put it on your must-visit list!
Aurinkolahti Beach
Aurinkolahti Beach is roughly 30 min or 20 km away from the main centre of Helsinki. This beach boasts 700 metres of soft sandy shoreline where locals can nap in the sun, make sandcastles or walk along the beach boulevard. There are plenty of cafes nearby to indulge in or to take an order home for a treat!
Pikkukoski Beach
Pikkukoski Beach is approximately a 20 min drive or 10 km away from central Helsinki. It is definitely among the bigger beaches in and around Helsinki, with a soccer field and a beach volleyball court within its area. It would be best to visit this quaint spot by planning to spend an entire day with the family. Play sports, frolic in the water, build sand sculptures or talk with people you haven't personally seen in a while. Don't forget to mask up in public!
Mustikkamaa Beach
Mustikkamaa Beach is located roughly 6 km away from the city centre of Helsinki. You can easily take a trip with a 15 min drive and get a chance to sit down and enjoy the recreational area surrounded by scenic views, rocks and nature. The Korkeasaari Zoo is a little distance away from the beach, as is the bus stop. Enjoy, take pictures and relax!
Hietaranta Beach
Hietaranta Beach is among the most-loved beaches by locals and visitors because of its proximity to the city centre of Helsinki. It is a quick trip from your home to the sandy shore. Plan your time to stay away from the crowd or socially distance your friends and family to have a good get-together in the fresh air and sunlight better than enjoying the beach!