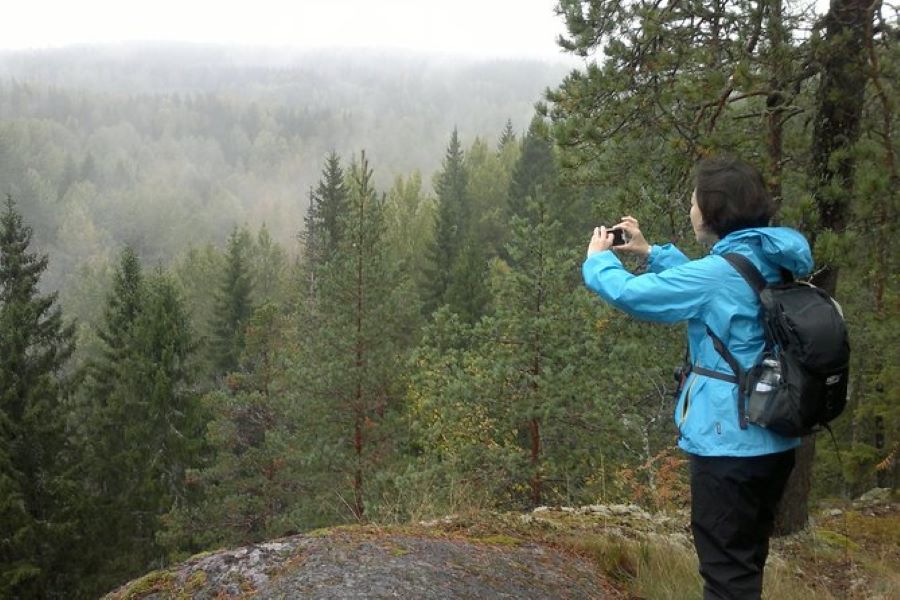 The coastal landscape and the stunning natural beauty all around, make the capital city of Finland a desirable destination to visit during the holidays. While you can check out the popular local attractions and hotspots, the natural sires of Helsinki are much more beautiful to explore. Try and visit the Nuuksio National Park and enjoy a walk in nature.
The Nuuksio National Park is roughly 20km or 12.4miles away from central Helsinki, and is a hidden gem popular among the nature lovers. The breathtaking natural beauty is a sight to see. The large area of natural land is untouched and a welcome break away from the bustling Metropolitan area.
This guided tour around Nuuksio Natural Park takes about 5-6 hours. You will begin by taking the commuter train and the local bus to be whisked deep into the heart of the Nuuksio Lake. The biologist guide will take you through the evergreen forest and guide you through the hilly landscape to explore all the smaller lakes and scenic spots to get some pictures!
It is one of Finland's most popular natural areas and you will most definitely have a good time enjoying the peace within nature. This tour is perfect if you prefer a hike, or even if you simply are curious about the wildlife and the natural vegetation of Helsinki, Finland. Be sure to wear comfortable shoes and clothes and carry a water bottle, towel and camera along with some snacks during the hike and make the most of the picturesque landscape by capturing all the best moments you have.
Visit this beautiful natural gem, and get to explore Helsinki like never before!